Recent Highlights
(February 2019) Dept. of Medical Imaging and Radiological Technology attended 2019 Bangkok International Intellectual Property, Invention, Innovation and Technology Expo (IPITEx) and won two gold medals: for the project "The Improved Apparatus and Methods of Intense Pulsed Light Combined Multiple Spectrum Micro Meter Light in Aesthetic Medicine", also awarded the Special Invention/Innovation Prize in European Exhibition of Creativity and Innovation in Romania this year, integrated applications of multiple spectrum lights for skin care; the other project was the "Application and Development of Micron Light in Termite Mushroom Culture", also awarded the Best Discovery & Commercial Invention Prize in IPITEx, and further, the gold medal in 2018 Kaohsiung International Invention and Design Exposition (KIDE), discovered that the exposure of micron light actually improved the quality and quantity of termite mushroom production.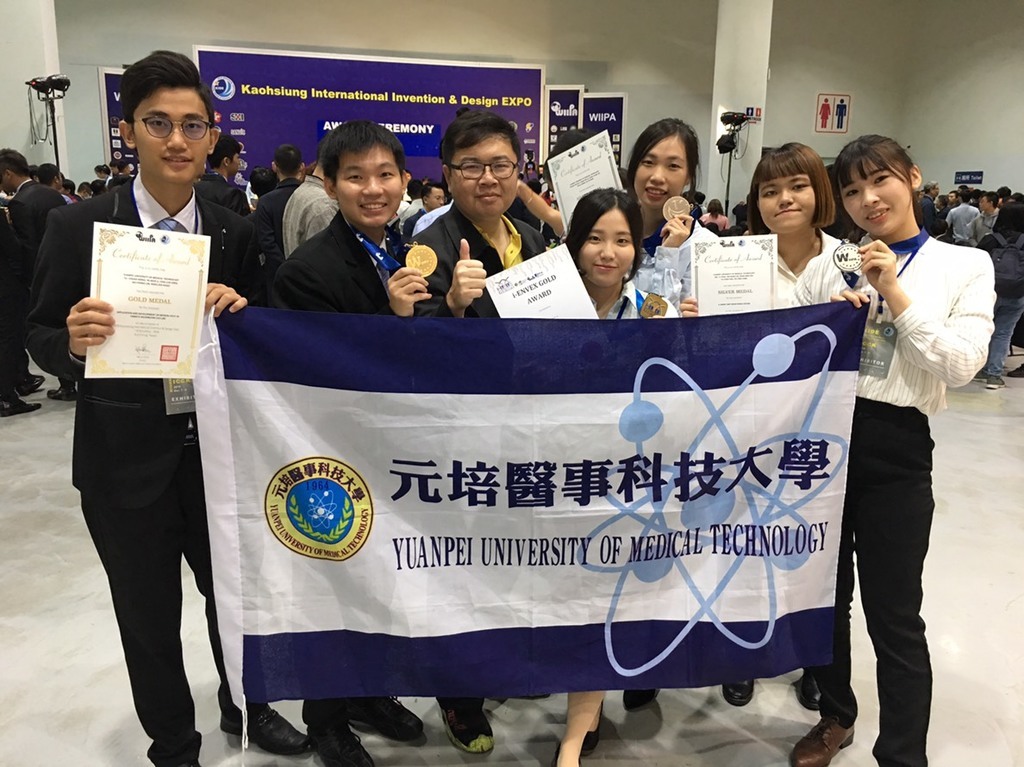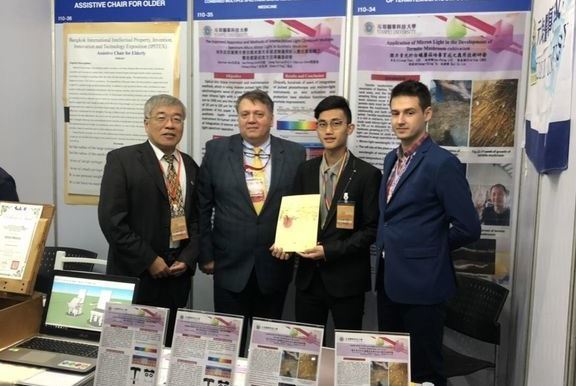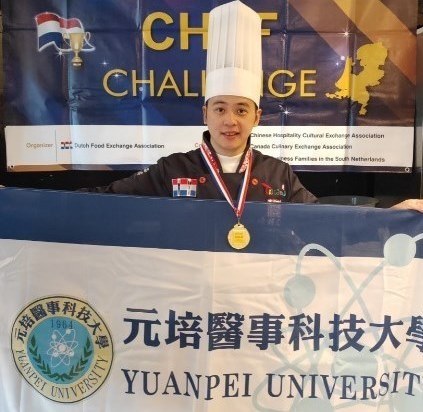 (January 2019)
(January 2019) Prof. Chi-Wen Chen (YUMT), Prof. Jun-Nan Lu (CSU), and Chef Wei-Bin Wu (Dong-Gang Seafood Restaurant) won the Gold Medal in Team Competition from 2019 Dutch International Chef Challenge (DICC) held by Dutch Food Exchange Association (DFEA). Their innovative Taiwanese cuisine, Salmon Floss Hors d'oeuvre, Three-cup Chicken and Red Bean Paste Pastry won the heart of the judges with unconventional flavors and delicate garnishing.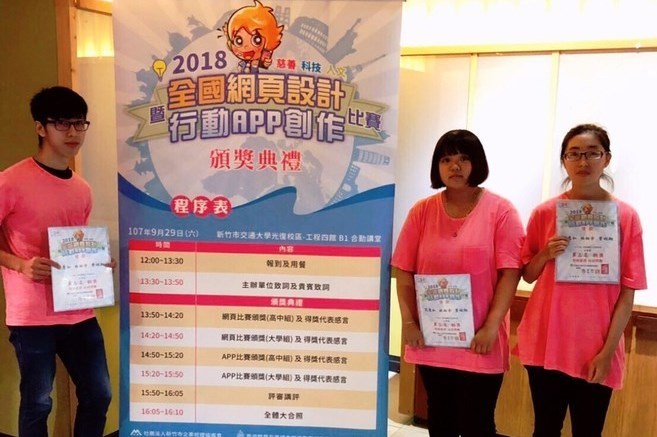 (September 2018)
(September 2018) Team of IILab from Dept. of Information Management attended the National Web Design & App Design Contest and won the bronze medal with the project titled "AI-assisted Medication Self-Management System". The team programmed an application to first recognize all the useful information from an image, and then compare and contrast the information with what's available in FDA database. As the application is expected to improve its accuracy with machine learning, the application will be really helpful to avoid the intake of wrong medication.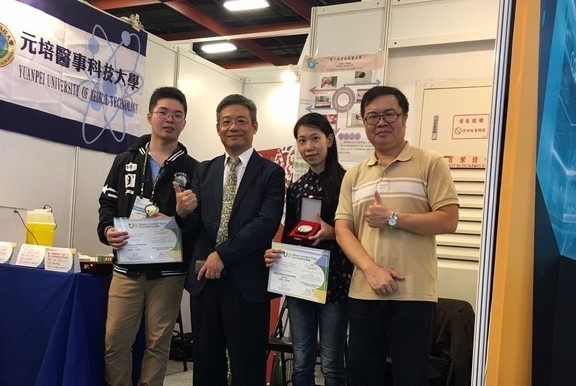 (September 2018)
(September 2018) Dept. of Medical Imaging and Radiological Technology and Dept. of Nursing participated in the 2018 Taiwan Innotech Expo and won silver medals with projects titled as "Food Decay Alarm Device" and "Intelligent Acupuncture Needle Distributor". The projects were highly praised for their applicability in real life, and therefore there is a high probability the products will be commercialized in the near future.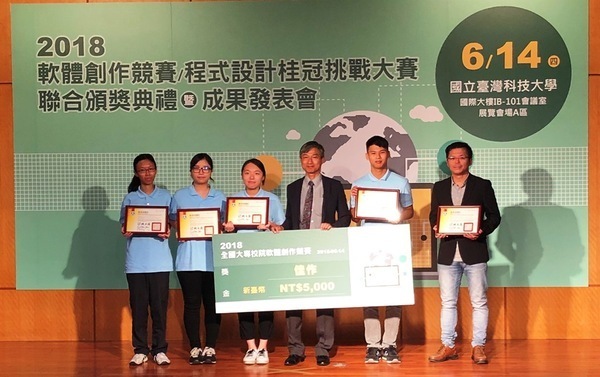 (June 2018)
(June 2018) Dept. of Information Management collaborated with Dept. of Medical Laboratory Science and Biotechnology and Dept. of Business Administration to research and design a new generation of learning system regarding slice reading. The team took part in the National University Software Creation Contest and won an Excellent Work Prize from the Intelligent Sensor and Interactive Multimedia Division. The team designed a virtual learning space for pathological slice reading to assist medical sciences students to smooth the learning curve of the training. From records on the eye tracker devices, the team acquired trajectories from senior pathologists as examples for novice pathologists to learn from.
Distinguished Alumni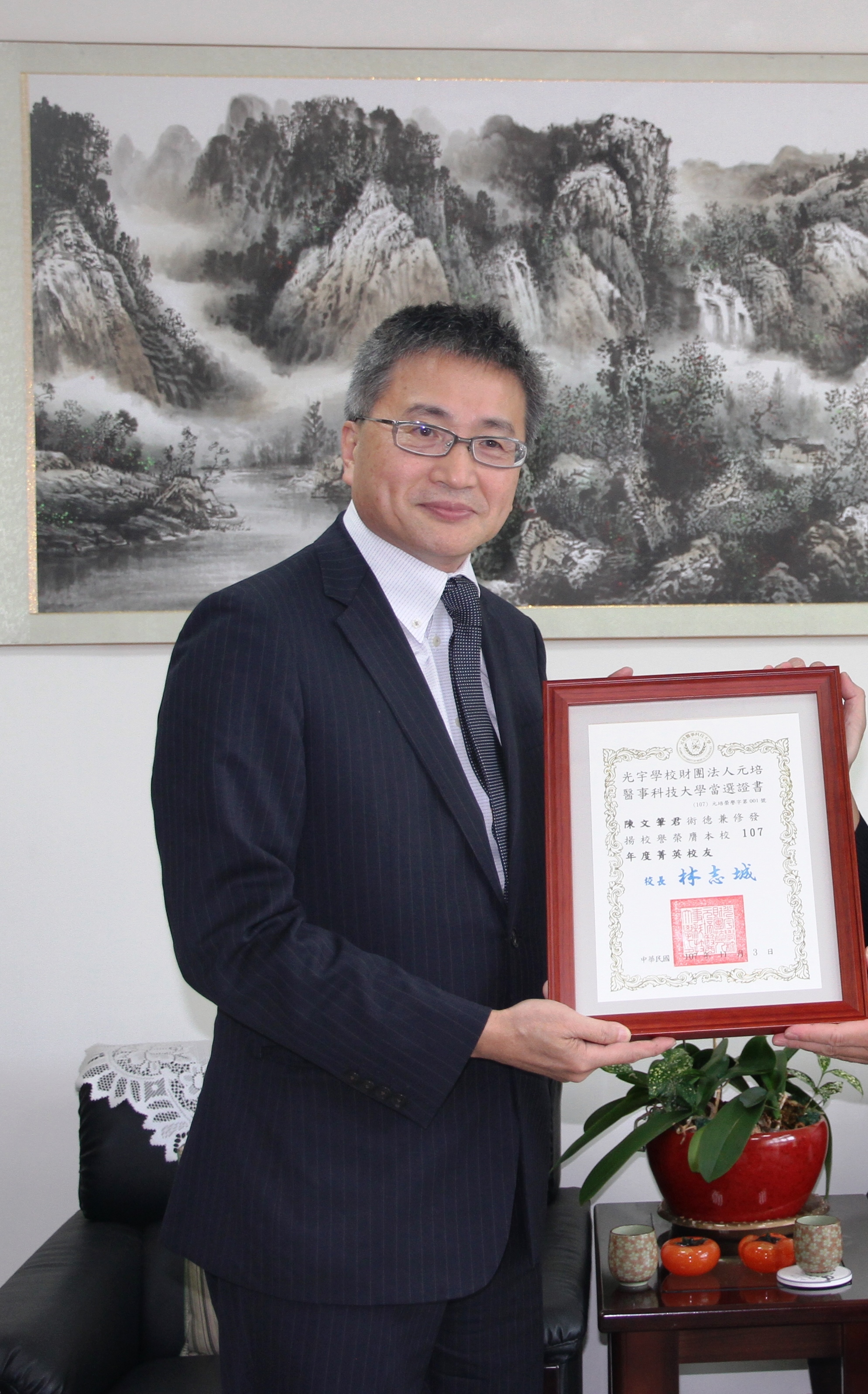 Mr. Chen
A 1980 graduate of the Department of Radiological Technology, Yuanpei Junior College of Medical Technology. Currently the director of medical departments of Nanao Hospital in Japan. Mr. Chen went to Japan to study Medicine after graduating from Yuanpei. He then traveled to the U.S. to pursue further education after receiving his doctoral degree at Kanazawa Medical University. He excels in both medical practice and academic research, having served as the director of medical departments in several national hospitals in Japan and published widely in his field. He was the recipient of the National Hospitals Distinguished Paper Award in 2018. Mr. Chen is also very active in social service. He is a former member of the Overseas Community Affairs Advancement Committee under Overseas Community Affairs Council of Taiwan and a former honorary director of Ishikawa Taiwan General Assembly. He has pledged to help Yuanpei in its efforts to establish a university hospital and Taiwan-Japan Friendship Hospital.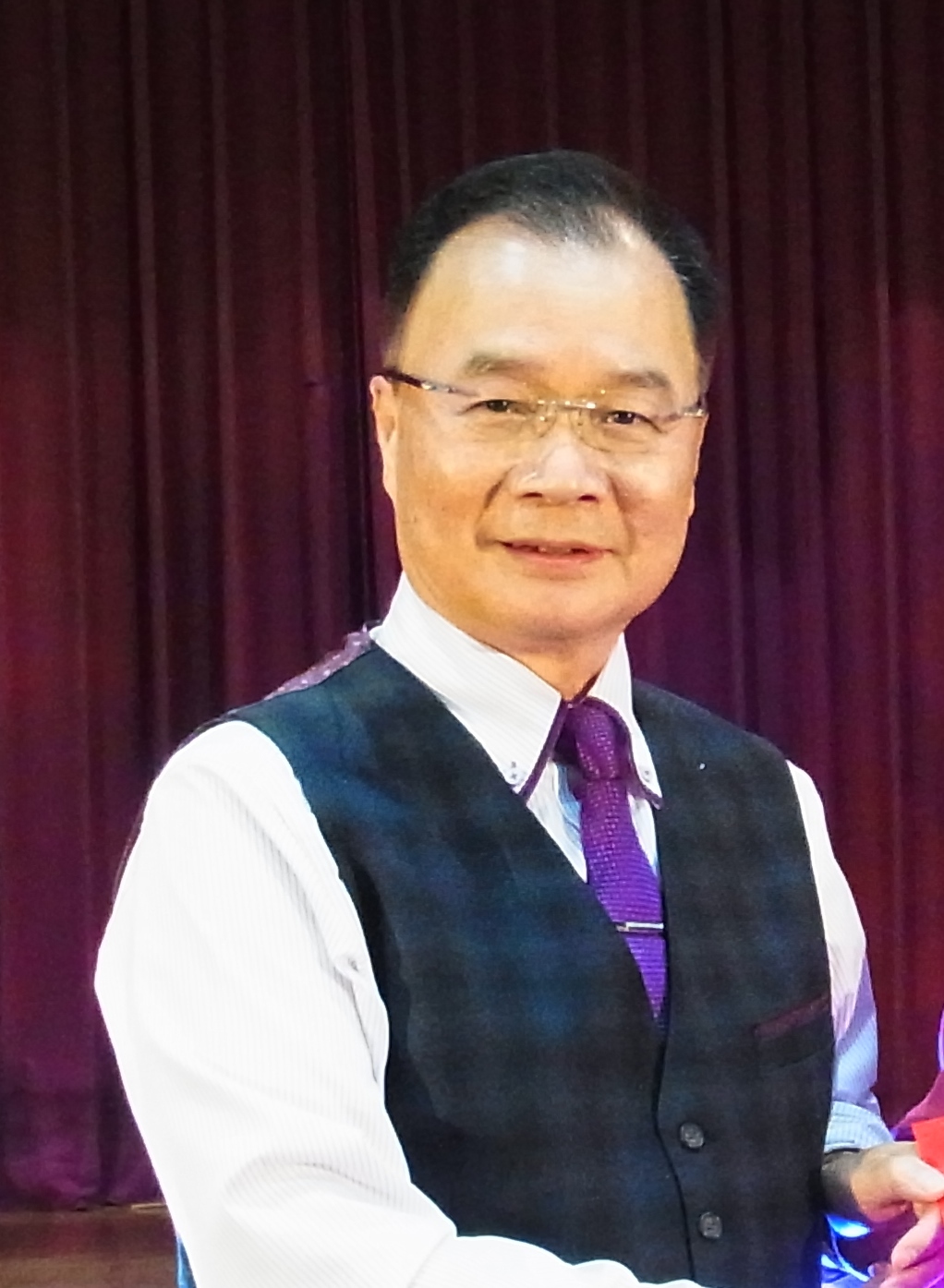 Mr. Zhu
A 2004 graduate of senior college of the Department of Healthcare Management, YUMT. Currently the Director of Zhu Ming-tian Chinese Medicine Clinic and an Adjunct Assistant Professor of the Department of Healthcare Management, Yuanpei University of Medical Technology. Mr. Zhu has an outstanding research work and contributes significantly to both the industry and society. He is now the Director of Zhu Ming-tian Chinese Medicine Clinic. Being invited to offer courses as a senior lecturer, he also provides internship opportunities for the students in the course. Mr. Zhu served as the fifth president of the Hsinchu City Chinese Medicine Guild, an executive director of the National Union of Chinese Medical Doctor's Association, R.O.C. and an executive director of the National Union of Chinese Medicine Association.
University Social Responsibility and Community Integration
Our School values practical knowledge and social services, so we establish and maintain high class practice centers for our students and make these available to the public. We also embrace all opportunities to work and learn with current industry. Since 2018, Yuanpei complied with the University Social Responsibilities project from Ministry of Education to nurture new talents, assist with local industries and help local government resolve emerging issues.
Continuing Education
Our Continuing Education Unit regularly invites qualified and experienced teachers to design education and life skill courses for the interested public to broaden knowledge and further interests. Credited Courses count towards core subjects of degrees and are offered by all departments within the University.
Non-credited Courses are offered to the public
Certificate (basic and intermediate) in Bakery
Chinese-style and Western-style Cuisine
Courses for Exotic Cuisines
Bartending Courses
Coffee Roasting and Latte Art Training Courses
Barista Skills and Training Courses
Tea Appreciating
Food Testers and Analyzers
Training courses for Nannies and Healthcare
Courses for Toxic Chemicals
Courses for Hazard Analysis and Critical Control Points (HACC)
Training Courses for Operation and Maintenance of Sewerage Facilities
Certificate Courses for Elderly Healthcare; Craft Courses and Workshops